Mother's Day Gift Guide
Mother's Day is one of those holidays that always sneaks up on me. One day we are celebrating St. Patrick's Day and the next I'm getting a phone call from my father reminding me to call my Grandmother. Then I quickly order something on Amazon and then blame it being late on the shipping even though I have Prime (sorry Mom and Grandma if you are actually reading this). So to help all those people who are like me and reaaalllly doing your best not to procrastinate on gifts for that lovely lady that gave you life, here are some ideas!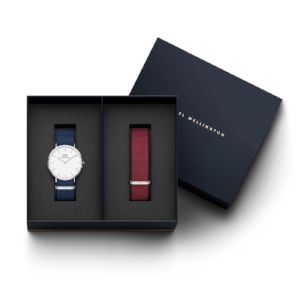 A watch is something that she can use every day. This current watch is a brand new release from Daniel Wellington for their classics collection. The best part is you get it as a bundle, so it is essential two watches. The straps are interchangeable, allowing them to work with a variety of outfits. It comes with free shipping, free returns, and automatically has a 2 year warranty. Also, if you use the promo code kaleymcc you will get 15% off.
An Instant Pot is essentially the modern day crockpot. I would try to say what could be made in one of these, but honestly, there are too many to even start. This is perfect for the busy mom who needs to have an entire meal that would normally take hours to make be done in one.
I drink AT LEAST 4 or 5 water bottles a day. Hydration is something that I'm super passionate about and really recommend everyone to focus a little bit of their lifestyle on. But I get it. Plain water isn't for everyone. An infuser water bottle is a nice quick and easy gift to give that allows them to customize it to their own personal preferences.
My mother is one of those people who is always going above and beyond for other people and rarely takes time to spoil herself. Knowing that this is something she would never get on her own, that's why I think a "Home Spa" gift set would be a great gift for her. Now whether or not she would take the time to use it...that's another battle entirely.
A windowsill herb garden is perfect if you are looking for a practical gift but also a little challenge as well. This isn't one of those gifts that you can just hand it over and they can forget about. They actually have to take care of it...just like they took care of you! so it's nice and sentimental..right?
Waking up in the morning isn't fun for anyone...ever. This alarm clock wakes you up naturally with light by simulating a sunset. There is still an actually alarm feature though and gives you 10 different brightness levels to customize your morning wake up call.
My mother absolutely loves photos, but we are terrible at hanging up. I got her a giant picture frame for Christmas about...10 years ago? The pictures haven't changed since. The HP Sproket Portable Photo Printer let's her choose what photos she wants printed out when, and allows them to be small enough that she can take them wherever she may go!
Ok. Now this is just neat. While sure, this weather predicting device may not be 100% accurate, but it looks amazing and is a wonderful conversation starter! This turns the "so the weather today..." conversation at work into something worth talking about! Science and the crazy things that are created overtime.
My mother is coming out of the super dry winter of New York. Hydration for her skin is essential and I also know it's something she probably wouldn't splurge on herself. Kopari products are made with 100% coconut oil from the Philippines. This allows her to sample the different types of face, body, and hair moisturizer that she wouldn't normally gravitate towards.
Last but not least, the classic purse. I have found, especially if it isn't something you are used to carrying, having a nice, high end purse can be intimidating. You feel the need to baby it, clean it, barely use it, never put anything in it that could stain it, etc. This Nine West purse is neutral in tone making it versatile, large enough to fit all of the essentials and then some, but most importantly, its good enough quality that it won't fall apart on her, but not expensive enough that she's nervous about using it.
Obviously, this is just a bit of inspiration. Think about what your own mother would want and what she wouldn't normally get herself. More likely than not, she put up with a lot. Give her a little treat!
all amazon links are affiliate links.
this post is sponsored by daniel wellington. the promo code "kaleymcc" is a gift to you and I do not receive any commissions from it.
Thank you so much for all of your support! Know that I really appreciate it.